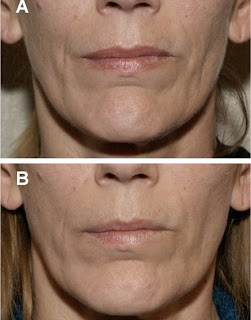 We're back from the 29th annual American Society for Lasers in Surgery and Medicine meeting in Washington, D.C.

This meeting draws experts in the field of cosmetic lasers from across the globe into one place. Both Dr. Pozner and I are on the Board of Directors of this group and we will be describing the meeting, with some of our colleagues over the next few days.

I personally gave talks on the newest variety of Fraxel type lasers (including Solta Medical?s Fraxel re:pair, Lumenis? Total FX, Cutera?s Pearl Fractional and Sciton?s ProFractional. I also presented our work on Primaeva?s newest non-invasive skin tightening technology. This machine will be marketed under the name of Miratone.

As you can see from this before/after that was presented, there was moderate improvement in skin tightening and rhytides three months post-treatment.


To see the rest of the presentation, just click

here

. Collaborating were Bradley J. Renton, PHD, James Newman MD, and Basil H. Hantash, MD, PHD.

Dr. David J. Goldberg


Skin Laser Surgery Specialists of NY/NJ




Sanctuary Medical Aesthetic Center



Dr. Jason Pozner


Sanctuary Medical Aesthetic Center