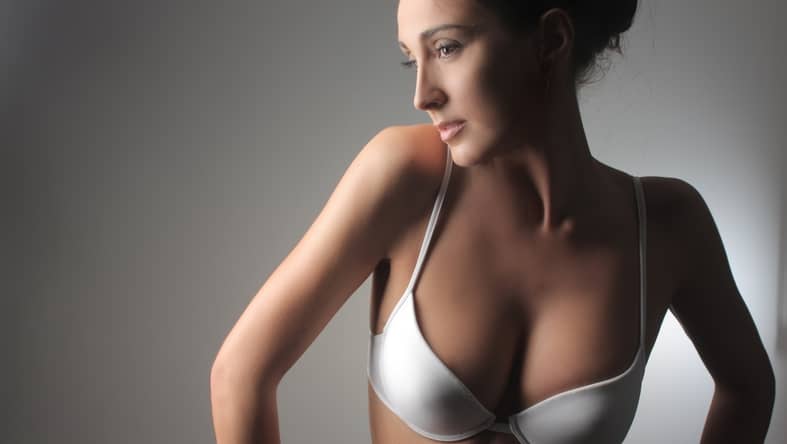 When Can I Wear a Bra after Breast Augmentation?
After breast augmentation, it can be fun to begin shopping for clothes that will accentuate your new breast appearance. Being able to look great in new bras, bikinis and tops is just one of the many benefits you'll experience from your procedure. However, patience will be necessary while you recover from surgery. You won't be able to wear regular bras immediately.
There are several factors that will impact the length of time you'll have to wait before wearing a bra after breast augmentation. The type of implant will play a major role. You'll need to wait approximately one month before wearing a bra if you get saline implants; if you choose silicone breast implants, Dr. Pozner will recommend that you wear a sports bra for support while you heal.
Wait Until You Are Healed to Purchase New Bras
In general, most women are able to wear bras 4-6 weeks after breast augmentation. That being said, Dr. Pozner recommends waiting approximately three months before spending a lot of money on new bras. It often takes several months for all swelling to subside and for your breast implants to settle into their proper position. During this process, your breast size and shape will continue to change. If you purchase new bras before your final results are visible, you may discover that they won't fit well or accentuate your new breast appearance once all swelling subsides.
For this reason, it's best to buy a few comfortable, inexpensive bras to use while you are healing. In order to avoid irritation near the incision, avoid underwire bras until you're fully recovered.
The Implant Style Will Impact the Time Required Before Wearing a Bra
It takes longer for implants with a smooth texture and round shape to settle into their final position after breast augmentation. Wearing a bra before this process is complete may cause you to experience irregularities in your new breast appearance once your final results become visible. While this issue is rare, Dr. Pozner recommends erring on the side of caution and waiting to wear a bra until your breast implants fully settle into position.
On the other hand, teardrop-shaped, textured breast implants will need a greater amount of support and compression while you heal. This support is crucial to avoid implant rotation, which would create an unnatural breast appearance due to the teardrop shape. By wearing a sports bra throughout the recovery period, you will receive the support necessary to keep these implants from rotating out of position.
Contact our Boca Raton Plastic Surgeon
Please contact Sanctuary Plastic Surgery using the form on this page or call 561-367-9101 today to schedule a breast augmentation consultation. We serve patients in Boca Raton and the surrounding areas of Florida.